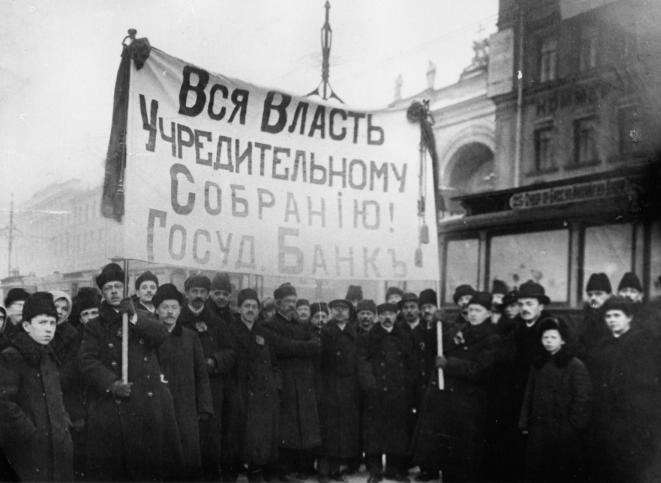 The Bolsheviks continue to consolidate their position. Striking civil servants are still a problem for the new regime. Many of Russia's officials are opposed to the Bolsheviks' seizure of power and have been on strike in protest. By now though the strikes are declining in effectiveness as enough civil servants return to work in order for some semblance of orderly public administration to progress.
One area where the Bolsheviks have had particular problems is the State Bank, whose staff have refused to obey the orders of Sovnarkom, the Soviet government. This puts the Bolsheviks in an awkward position, as it prevents them from paying their supporters. Finally though the situation is resolved by the removal at gun point of the State Bank's cash reserves.
Another pole of opposition to the Bolsheviks is the army. Lenin has sent an order to all units to elect their own representatives to conduct local armistice negotiations with the Germans. Dukhonin, the acting army commander, has attempted to prevent this order reaching frontline troops. Dukhonin's efforts are thwarted by the Germans, who have themselves retransmitted Lenin's order, hoping to speed the disintegration of the Russian army.
Lenin decides that he has had enough of Dukhonin. He is dismissed and Krylenko, the Sovnarkom war commissar, heads to army headquarters at Mogilev to replace him. But when Krylenko arrives, Dukhonin is dead. An angry crowd of soldiers had attacked the general, accusing him of organising the release from captivity of Kornilov. Dukhonin is beaten to death and his body reportedly used for target practice.

image sources:
State Bank employees demonstrate in support of the Constituent Assembly (St Petersburg Encyclopaedia: Constituent Assembly, All-Russian)
Nikolai Dukhonin (World War 1: November 22, 1917 – Bolsheviks Begin Armistice Talks with Central Powers)