Since the end of April the former Tsar has been imprisoned by the Bolsheviks in Ekaterinburg. At first he and his wife were held there alone, in the ominously named House of Special Designation, but they were subsequently joined by their five children.
The Bolsheviks have had difficulty deciding what to do with the Tsar. Trotsky favoured a show trial, relishing the prospect of leading the prosecution. But other Bolshevik leaders were less enthusiastic; the Tsar remained imprisoned while his captors dithered.
Then events force a decision. The Czechoslovak Legion is expanding its area of control and now has Ekaterinburg surrounded. With the town likely to fall, the Bolsheviks fear that the Tsar will become a focal point of counter-revolutionary resistance. To prevent this, orders are sent from Moscow (possibly by Lenin himself) to kill the Ekaterinburg prisoners.
In the early hours of the morning, the Tsar, the former Tsarina, their four daughters, their haemophiliac son Alexei, and their last four retainers are herded into the basement of their prison, ostensibly because they are about to be transported to a more secure location. But then armed men burst into the cellar and Yurovsky, the chief jailer, reads out the execution order. The Tsar is confused and asks him to repeat it, which he does. Then the execution squad opens fire.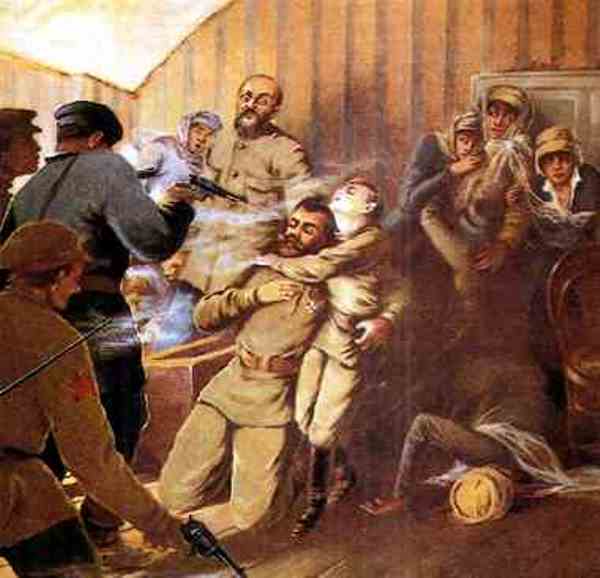 It somehow takes the squad more than 20 minutes to kill all their victims, with some having to be finished off by bayonet, but at the end of that time the former royals and their retainers are all dead. The only surviver is Joy, Alexei's pet spaniel.
The bodies are then taken away to be buried in secret.
image sources:
The House of Special Designation (Wikipedia: Execution of the Romanov family)
The killing of the Romanovs (La República: El centenario de la revolución rusa pasa inadvertido en Rusia)