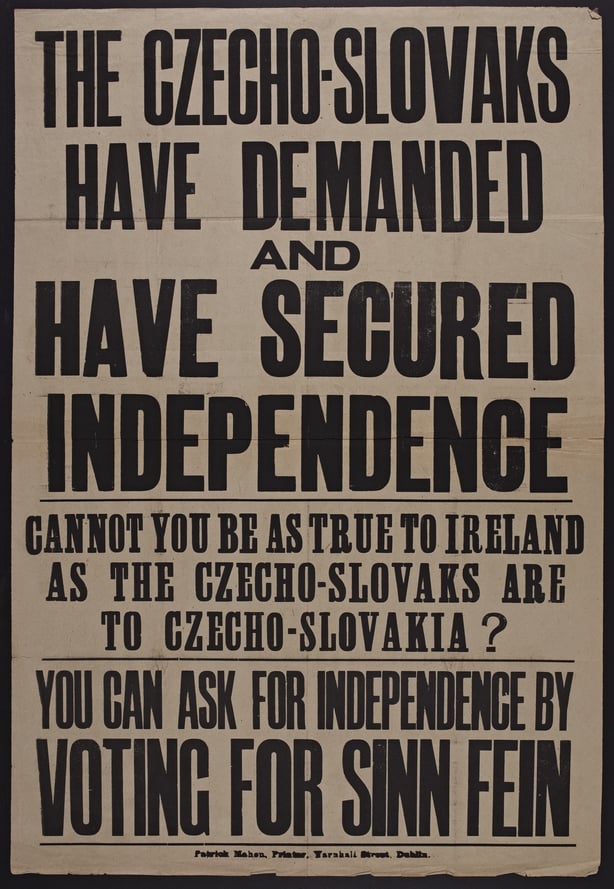 Ireland voted on 14 December as part of the United Kingdom's first general election since 1911. Today the votes are finally counted and the results reveal that Sinn Féin has definitively supplanted the Irish Parliamentary Party as the voice of Irish nationalism, with the IPP winning just 6 seats to Sinn Féin's 73. John Dillon, the IPP's leader, loses his East Mayo seat to Sinn Féín leader Éamon de Valera, who is currently in prison in England after being arrested earlier this year on suspicion of involvement in an outlandish German plot to invade Ireland. Unionist parties meanwhile dominate in the north east of the country, where many Protestant voters fear the consequences of self-rule in mainly Catholic Ireland. This is also where the Irish Parliamentary Party wins most of its seats; IPP candidates are more used to battling on against adverse circumstances here.
Apart from the north east, the electoral map of Ireland is now a sea of dark green, representing Sinn Féin victories. The only exceptions to the Sinn Féin sweep are Waterford City, where William Redmond is elected to the seat previously held by the late John Redmond, his father and the former leader of the IPP, and Rathmines in Dublin, where Unionist candidate Maurice Dockrell is elected.
Two women ran for Sinn Féin and one of these, Constance Markievicz, is elected. Like De Valera she played a leading role in the 1916 Rising and like him she is also currently in jail in England.
Sinn Féin candidates have secured election on an abstentionist ticket: they have promised not to take their seats in Westminster but instead to assemble as an Irish parliament in Dublin. Now those elected Sinn Féin representatives who are not on the run or in jail prepare to meet in January as the first sitting of a sovereign Irish parliament, to be known in the Irish language as Dáil Éireann.


images:
Sinn Féin election poster (RTÉ: Election 1918 – what you need to know about how Ireland voted)
Constance Markievicz (Wikipedia: Constance Markievicz)