On the 16h of June, Germany was given three days to either accept Allied peace terms or face the war's renewal. That deadline has since been extended to the 23rd, and now the world waits on tenterhooks to see whether fighting is about to resume.
After the armistice in November the German fleet set sail to be interned by the British. It is now at Scapa Flow in the Orkneys, manned by a German skeleton crew and closely guarded by the British. The German sailors are deliberately kept isolated, forbidden from visiting the shore or fraternising with their British counterparts, a source of some annoyance to radical German sailors who had hoped to spreading revolutionary sentiment to the British.
The German sailors have now got wind of the Allied ultimatum. They know that the endgame is approaching. Whether his country accepts or rejects the Allied terms, Reuter, the German commander, knows that his ships will never return to Germany but will instead be either sunk or divided out among the Allies. He decides therefore to preserve his fleet's honour by ordering the scuttling of his ships.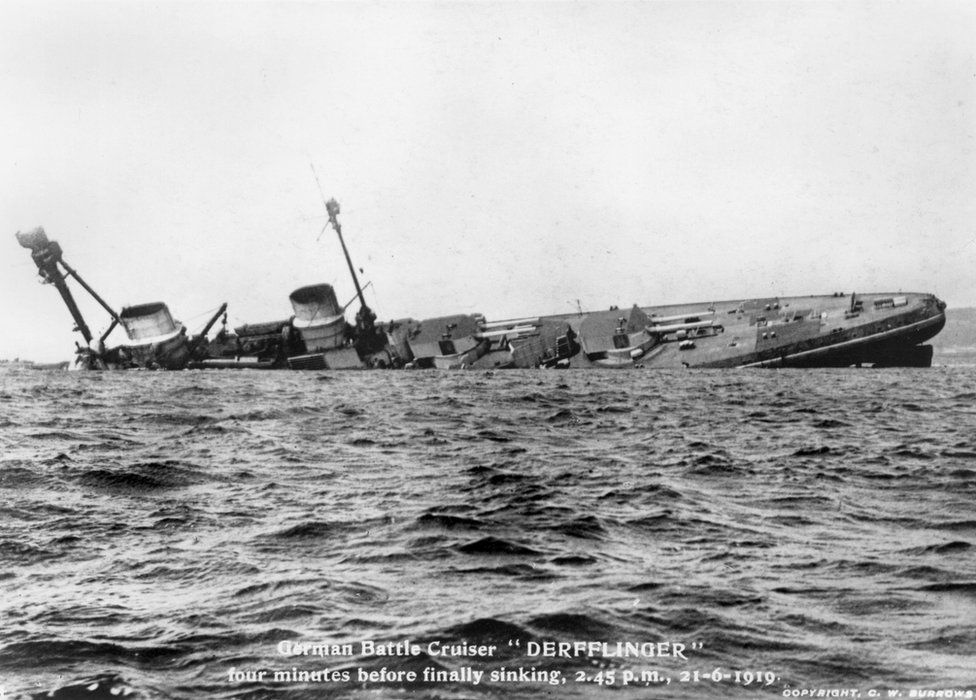 The scuttling is scheduled for today. At Reuter's order, the German ships raise their ensigns and below decks men open the sea cocks, letting water flood in. As the ships begin to list it dawns on the British observers what is happening. The British race to try and save the ships, forcibly boarding them to close the sea cocks, shooting any German sailors who get in their way. Nine German sailors are killed and 16 wounded, some after they have abandoned ship; they will be the last men killed in the First World War. However the British are too late: only one of the 16 German battleships is saved.


The German crews escape from their ships in lifeboats and are now imprisoned by the British as prisoners of war. Fremantle, the British commander at Scapa Flow berates Reuter for his dishonourable behaviour, though he later notes that he felt that the German had successfully "preserved his dignity when placed against his will in a highly unpleasant and invidious position".
The Allies view the German fleet's scuttling as yet another sign of the Teutons' treacherous nature. However the British in particular are secretly relieved. They had feared that the Paris Conference would insist on the division of the German ships among the Allies, which would have undermined British naval dominance. Now Britannia can continue to rule the waves.
images:
The Derfflinger sinks (BBC News – Scapa Flow scuttling: The day the German navy sank its own ships)
German sailors after abandoning their sinking ship (Plymouth Scuba Diving Submerged Productions – Scapa Flow – The German Valhalla)