French counterattacks have forced the Germans to halt their Gneisenau offensive after only few days. Compared to previous stages of the Kaiser's Battle, the gains from Gneisenau have been minimal. Now Ludendorff starts to plan the next attacl. Germany's Quartermaster-General still hopes to end the war with a crushing blow against the British in Flanders, but his attention keeps being drawn further south. He decides to prepare for two simultaneous offensives either side of Reims, one in the Marne valley and the other in the Champagne region. These will be the final diversions, after which he will unleash the stormtroopers in Flanders.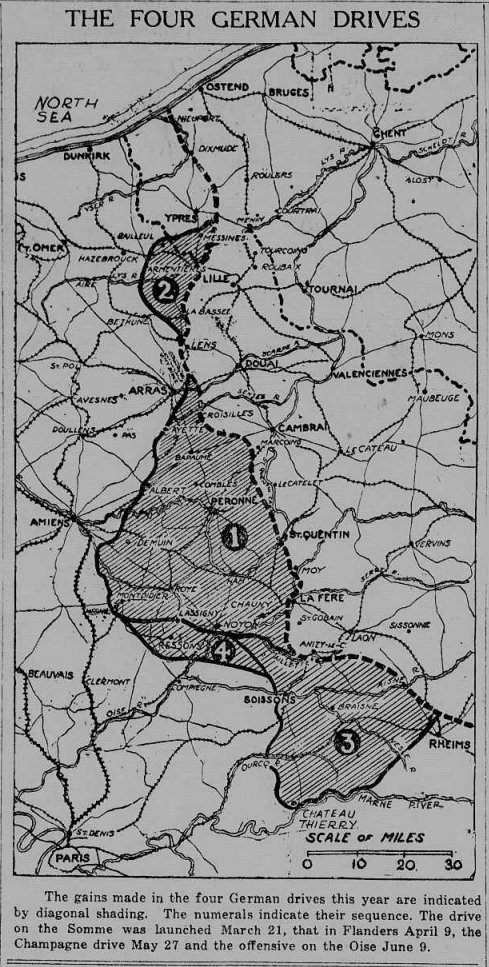 Time is no longer on Ludendorff's side. He will not be able to launch his next attack until July. Meanwhile American troops are arriving in France in ever increasing numbers and the Allies have more spring in their step, increasingly confident that they are successfully withstanding Germany's worst. German troops meanwhile are suffering from a slump in morale. In March when Ludendorff launched the first phase of the Kaiser's Battle, German morale was high: the soldiers believed they were taking part in the battle that would bring the war to a victorious end. Now after four offensives and enormous casualties victory seems no closer and the men are less keen to throw away their lives in Ludendorff's pursuit of illusory goals. Incidents of insubordination are increasing to an extent that alarms German army commanders.
The men at the front are nevertheless mostly still obeying orders. This is less true of men being sent from Germany to join their comrades in the line. Soldiers on trains to the front are almost in a state of revolt, attacking anyone trying to impose discipline and stoning station commanders. They are also deserting in huge numbers, with troop trains often losing a fifth of their complement in transit.
Ludendorff blames socialist malcontents in Germany for the army's growing discipline problem. He continues to hope that victory is just round the corner, with the next offensive, or perhaps the on after that, being the one that finally breaks the Allies. After that the shiftless elements at home can be dealt with.
image source:
map (100 Years Ago Today, @CenturyAgoToday on Twitter)