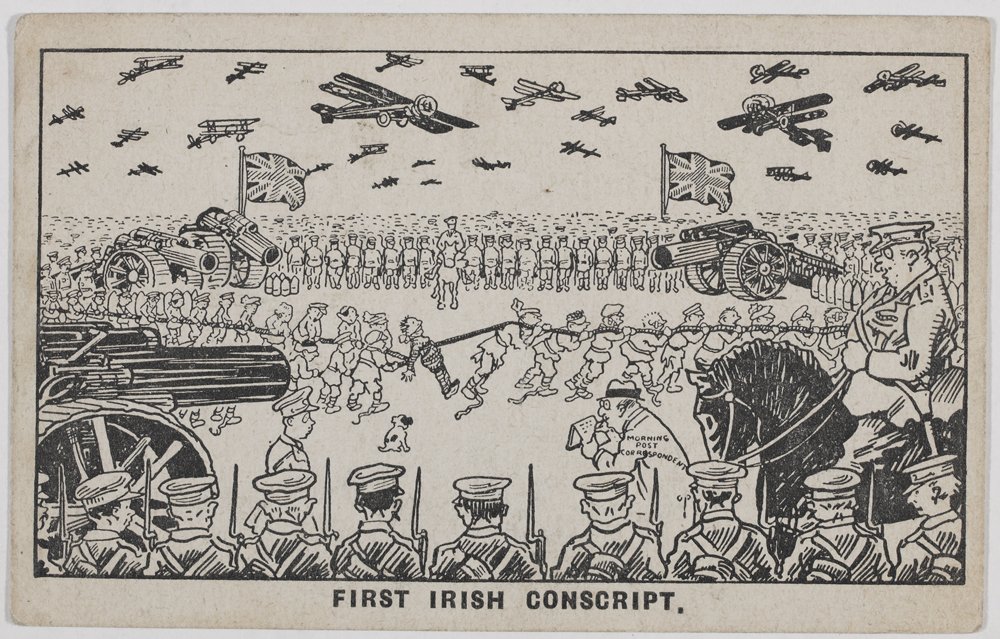 Ireland is in a tumult over British plans to extend conscription there. After rallies were held across the country two days ago, today the country is engulfed in a general strike against conscription called by the Irish Trade Union Congress. The strike is hugely successful with shops, factories, railways and even pubs closing across the country. The one area that remains largely immune from the strike is the north-east, where pro-British sentiment remains strong among the Protestant and Unionist community.
The strike is disconcerting to the British authorities, who note the involvement of the subversive Sinn Féin party in the anti-conscription campaign. Meanwhile in London Joseph Dowling, who was arrested in Galway in mysterious circumstances, is under interrogation by British intelligence officers. The British promise to spare Dowling's life if he co-operates; in return he confesses that he is a former British soldier who joined Roger Casement's Irish Brigade after being captured by the Germans. He further reveals that he was transported to Ireland by German U-boat and tells his interrogators that he was sent to liaise with Sinn Féin leaders in advance of a forthcoming German invasion of Ireland.
Dowling's fanciful tale of a Sinn Féin plot to assist a German invasion finds a receptive audience in London. British leaders now make plans to decapitate Sinn Féin by rounding up its troublesome leaders. Perhaps in so doing they will also break the back of the anti-conscription movement.
image source:
First Irish Conscript (National Library of Ireland, @NLIreland on Twitter)