The position of the Bolsheviks in Russia is now more secure. The fighting in Moscow has come to an end with the defeat of the their opponents. In Petrograd Sovnarkom is taking over the organs of central government, breaking the civil servants' strike that initially paralysed their administration.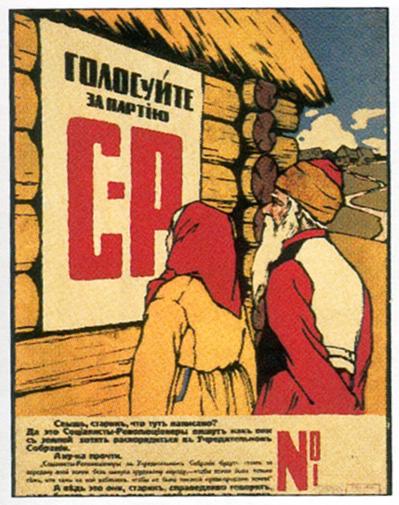 The Bolsheviks feel secure enough to allow voting to begin today to elect an assembly to draw up a constitution for Russia. The size of the country means that voting will take place on a staggered basis over the next two weeks. Elections to the Constituent Assembly kept being postponed by the Provisional Government, so much so that the Bolsheviks accused Kerensky of planning to cancel them completely. The still precarious nature of Lenin's regime means that he must now go ahead with the elections.
The vote for the Constituent Assembly is the first democratic election in Russia's history; even women are voting, something that is still only being considered in other countries. The problem with free elections of course is that people do not always vote in accordance with their objective class interests. Nevertheless, Lenin hopes that the Bolsheviks and their allies in the Left-SRs will win a majority, thereby vindicating his seizure of power.
image source:
Election poster, I think for the Socialist Revolutionaries (Saint Petersburg Encyclopaedia: Constituent Assembly, All-Russian)