Unrest has been building in Petrograd. Now it erupts. Revolutionary soldiers and radicalised workers take to the streets. They have had enough of the Provisional Government and want rid of it. Some are calling for executive power to be assumed by the Petrograd Soviet (which now has delegates from all across Russia) while others have less focussed demands. The radicals send messengers to the Kronstadt naval base, calling on the sailors there to join them in the capital's streets. The workers of the city's industrial areas are also summoned to the city centre.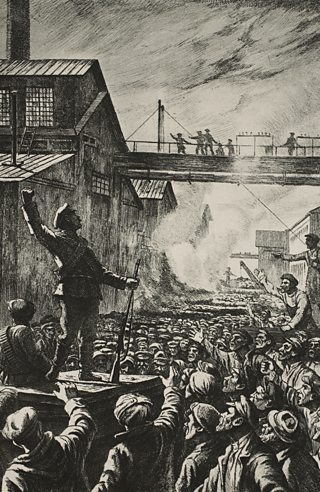 The streets are largely in the hands of the radicals, but they still resistance from Cossacks, some loyalist soldiers and conservative militiamen. Shots ring out across the city, with it not always being clear who is firing on whom.
The events have the Bolsheviks in a quandary. Lenin is away in Finland. Many of the Bolshevik rank and file are actively involved in the unrest, hoping to use it to overthrow the Provisional Government. But the leadership are more cautious, fearing the consequences of premature action. They send a message to Lenin, calling for his urgent return. Leading Bolsheviks Zinoviev and Kamenev write a front page editorial for tomorrow's Pravda, the party newspaper, calling for restraint.
image sources:
Revolutionaries (The Internationalists: 1917 – The July Days)
Factory workers summoned to the streets (BBC Eduction: the July Days)