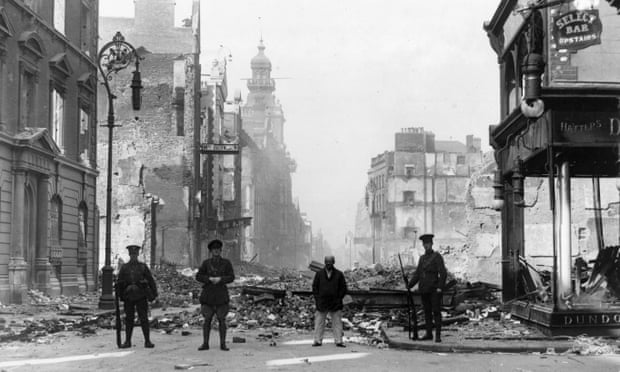 Verdun grinds on. Russian victories against Turkey. The fall of Kut. Rebellion in Dublin.
2/4/1916 Zeppelins over Scotland, Faversham blasted in industrial accident
5/4/1916 Kut: Gorringe to the rescue
5/4/1916 Verdun: Joffre yearns for the French to strike back
7/4/1916 Allied blockade, Turkish confiscations and a plague of locusts bring famine to Syria and Lebanon
8/4/1916 Ireland: a routine mobilisation?
9/4/1916 Kut: Gorringe fails to break through the Turkish lines
9/4/1916 The "Libau" sets sail
9/4/1916 Verdun: French hold German attacks on east and west banks
10/4/1916 Verdun: Joffre pays a visit
12/4/1916 Mesopotamia: desperate measures in Kut
15/4/1916 Brusilov's bold plan for an offensive
15/4/1916 Mesopotamia: British attempts to supply Kut by air
17/4/1916 Kut: yet another British relief attempt fails
18/4/1916 Russian forces seize Trebizond; the scale of Turkey's abuse of the Armenians becomes increasingly apparent
19/4/1916 Dublin: a planned British crackdown revealed
19/4/1916 Joffre kicks Pétain upstairs
19/4/1916 Wilson threatens to break off diplomatic relations with Germany
22/4/1916 Kut: Gorringe's last attempt to raise the siege
23/4/1916 Ireland: the Easter Rising fails to materialise
24/4/1916 Dublin erupts into revolt
24/4/1916 Kut: Gorringe's last desperate roll of the dice
25/4/1916 Lowestoft: the German fleet attacks England
26/4/1916 Bloody fighting in Dublin
27/4/1916 Hulluch: German gas attack
27/4/1916 Kut: Townshend tries to buy his men's freedom
28/4/1916 Maxwell arrives to pacify Ireland
29/4/1916 Kut: another attempt to bribe the Turks
29/4/1916 Britain humiliated as Kut surrenders
29/4/1916 Easter Rising: Pearse surrenders
30/4/1916 The last Easter Rising rebels surrender

see also:
@ww1liveblog (Twitter)
World War 1 Live Blog (Facebook)
image sources:
Dublin in ruins (Guardian)
map (Mental Floss WW1 Centennial)