In Galicia a combined Austro-Hungarian and German force is attacking the Russians at Przemysl. After taking some of the outlying forts, the Austro-Hungarians now push into the town itself. The Russians still hold forts on the right bank of the river, but with the town back in Austro-Hungarian hands it will not be long before they fall.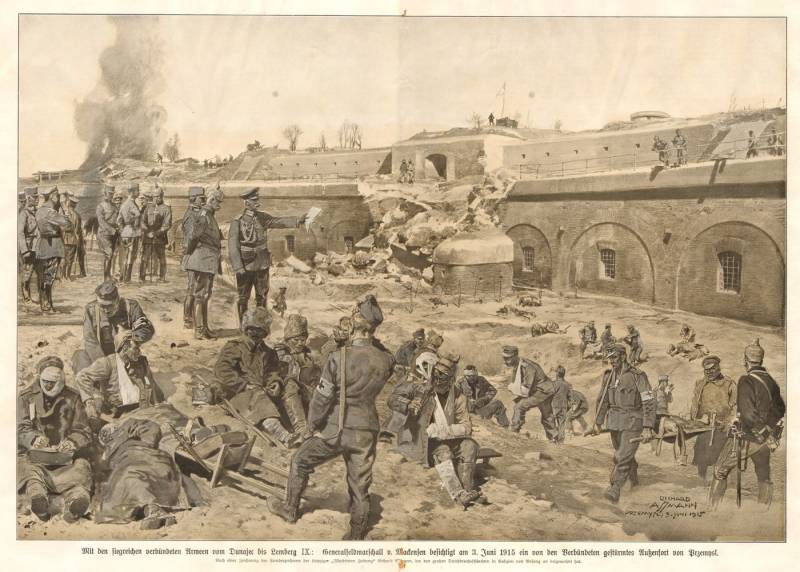 The Russians were only able to capture Przemysl after a siege of four months. How has it been recaptured so quickly? The heavy artillery of the Austro-Hungarians is like nothing the Russians have themselves. It has been able to pummel the Russians into submission or else obliterate them. Also, the Gorlice-Tarnów offensive has the Russians in retreat everywhere; they are not committing major forces to the defence of Przemysl lest they be cut off by the enemy's advance. So the Austro-Hungarians win back their city relatively easily, but by riding the Germans' coat-tails.
image source:
German and Austro-Hungarian troops at Przemysl, with Russian prisoners (Visit Przemysl; with photographs of the fortifications as they are now)
See also: The History of the Construction of the Fortress of Przemyśl by Tom Idzikowski, from the website Austro-Hungarian Land Forces 1848-1918.