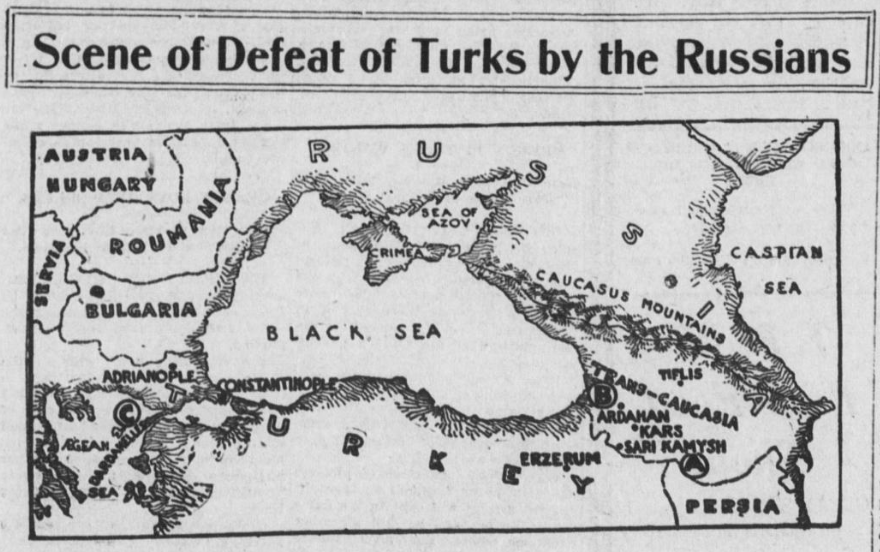 The battle of Sarikamish is over. The Turks had hoped to seize this key Russian town, but instead they have suffered a terrible defeat. Now the survivors have limped back over the mountains. Of the 130,000 men who marched into the mountains to attack the enemy, somewhere between 75,000 and 90,000 have failed to return. Many were captured or killed by the Russians, but many also died thanks to lack of supplies or proper medical treatment. Many have also died of exposure in the freezing Anatolian winter, possibly as many as 30,000. And now an epidemic of typhus has the remnants of the army in its grip.
The Ottoman Empire entered the war because its leaders hoped to restore the position of the declining empire, but the Sarikamish disaster has shattered dreams of re-establishing Turkish control of the Caucasus. Now the danger is that Russia will follow up its victory by pressing into Turkey's Anatolian heartland, aided perhaps by the Christian Armenian minority.
Turkey's armies had underperformed in the Balkan Wars of 1912 and 1913. Their failure at Sarikamish makes it look like they are still a pushover. Some Allied policy makers begin to wonder if a determined blow against Turkey might knock it out of the war, reopening the vital Black Sea trade route to Russia.
image sources
map (tweet by @ThisDayInWWI, reproducing image from the East Oregonian, 12 January 1915)
Russians and frozen Turkish corpses (Wikipedia)